As it seems right now, traveling and summer holidays will take time to get back to what we were used to the past few years. A negative PCR test, a few days of self-isolation when entering a country, or even a vaccine certificate are some terms that are becoming more and more relevant when it comes to traveling. Although by the time we write these words, we are not even close to predicting what the travel protocols to enter Greece will apply during this summer season, one thing is for sure: we look forward to better summer days.
Many travelers admit that their dream for a Greek summer 2021 holiday is limited to a nice hotel, an amazing beach, fresh food and time to relax and appreciate the small things with their loved ones. Furthermore, it seems that visitors to Greece this year plan to stay longer but visit one or two islands avoiding frequent ferry hopping. After all, if we have learned something during the past months is that we should never take even the shortest trip for granted.
Since the party scene (as things stand right now) will be on hold and many vacationers want to avoid crowds in touristic destinations, some less popular and away from the beaten path Greek islands have emerged as the ideal post-COVID summer getaway. These islets where the means of transportation is either your own feet, a kaiki (fisherman's boat), a bicycle, or hitchhiking to the few cars, will offer you a serene atmosphere and their natural beauty that is preserved only for the lucky few.
The "less is more" attitude towards life is essential here. Leave your car behind, skip the beach parties for next summer, pack a swimming suit and a book or two and find inner peace on a small island in the middle of the Aegean sea.
We have gathered a list of some beautifully designed retreats and guesthouses on some of the most remote islands of the Aegean archipelago called the "Small Cyclades". This complex is a group of small islets scattered like confetti on the east of Naxos. These islands are Donoussa, Koufonisia (Pano Koufonisi and Kato Koufonisi), Schinoussa and Iraklia. Another island that belongs to this group is Keros which remains completely uninhabited since 1968 and has been declared as an archaeological site.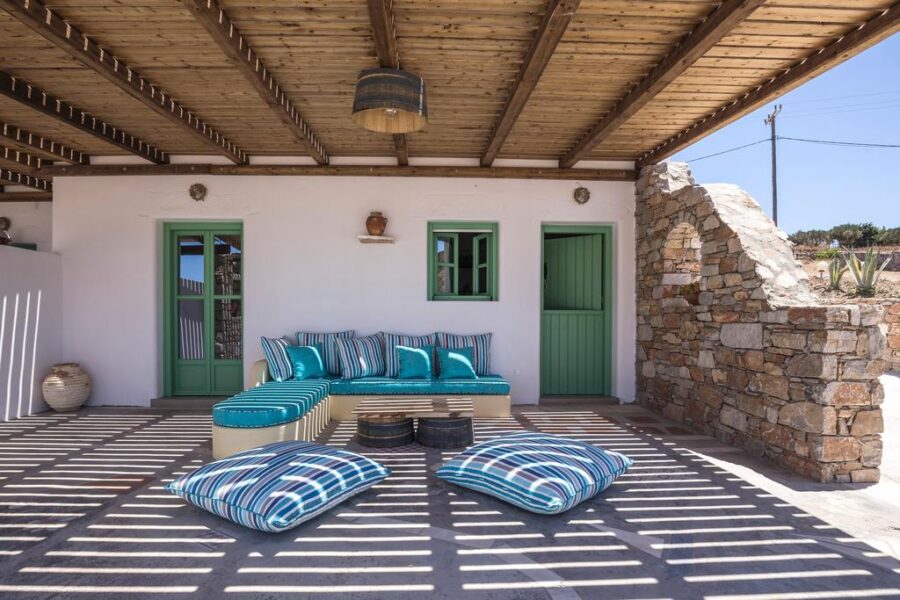 Schinoussa is an island of almost 200 inhabitants and belongs to the Small Cyclades complex. It can be approached directly by ferry from Piraeus or if you want a shorter ferry ride, you can fly to Naxos or Paros and take the ferry from there.
The island has only two villages Chora and Messaria and more than 15 beaches. Most of them are secluded and unspoiled, boasting a raw natural landscape and enticing cobalt waters. They are easily accessible on foot from Chora.
Although Schinoussa is a small island in size, it has a fantastic gastronomic scene! The few tavernas and restaurants on the island cook delicious seafood as well as traditional meat dishes while the photogenic kafeneio "Xara" is the place where you will sit for hours drinking a coffee or a glass of wine. Don't forget to try the local fava beans that are considered of premium quality and taste.
Where to stay: Ailouros guest house is situated in Chora and will offer you the perfect place to unwind and relax.  Africanis suites is a new hotel with boho-chic vibes.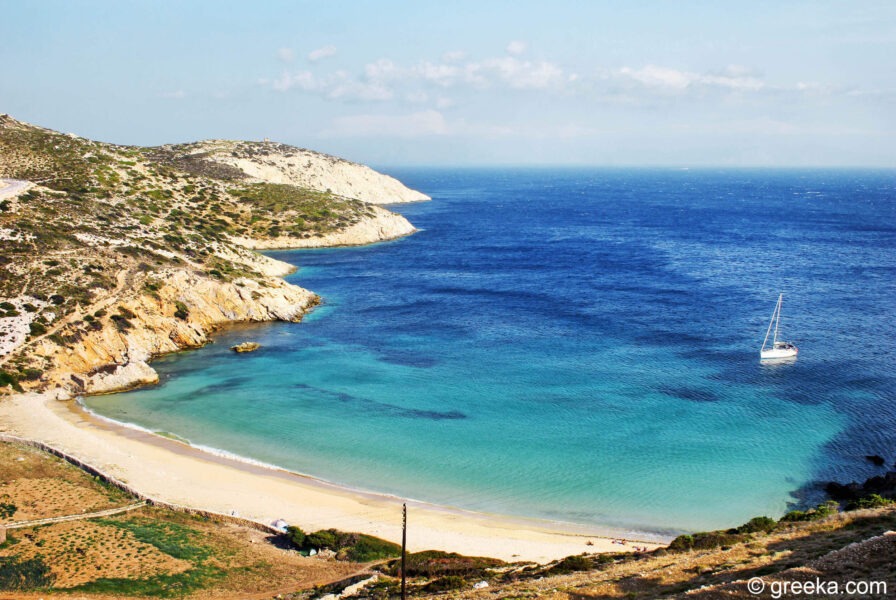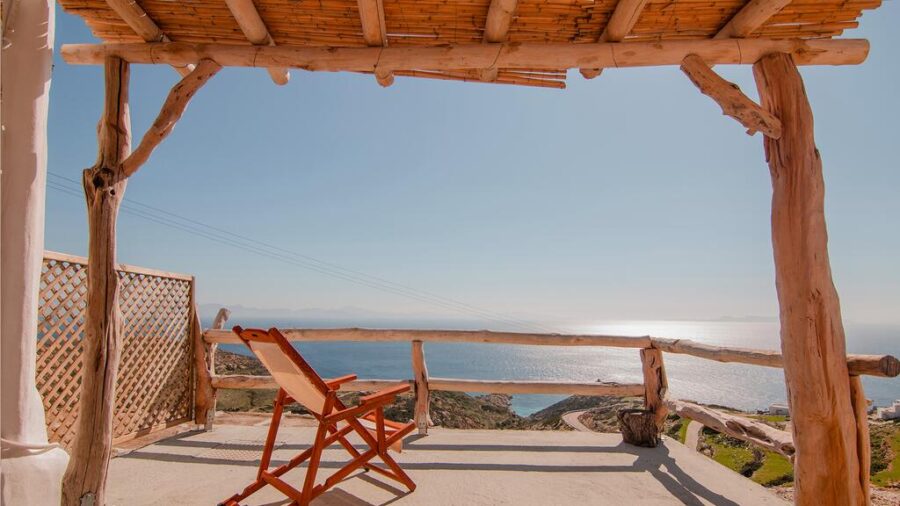 Donoussa is the "bohemian princess" island of the Small Cyclades complex. This island of 167 inhabitants has long been the paradise for free campers and naturists. It has beautiful beaches, lovely photogenic chapels and a few hiking trails.
Lazy days with swimming and snorkeling above an airplane wreck at Kendros beach, drinking and eating at authentic Greek tavernas and taking part in impromptu small local feasts is what to expect during your stay!
Taverna "Tzi Tzi" is a place where you will gaze at the most amazing Aegean view while eating those delicious cheese pies and dakos salad. Don't miss the chance to hop on a wooden fishing boat named "Magissa" (Witch) that will take you to mesmerizing sea caves and will surely bewitch you! Every day in Donoussa ends with a drink at Skatzoxoiros bar which is one of the meeting points on this remote island.
Where to stay: Dimitrakis guesthouse is the place to host your laid back holiday. Lovely views and a traditional architecture well renovated in 2019 is what will make your accommodation here exceptional!
Koufonisia consists of two smaller islands, the Pano Koufonisi and the Kato Koufonisi. Koufonisia is the most touristic developed island of the Small Cyclades complex but still remains calm and unspoiled compared to its bigger Cyclades siblings.
The Pano Koufonisi is where the main tourist facilities are located. Numerous Caribbean-like beaches, sea caves and nice cozy restaurants make this island of a less than 400 total population, stand out.
Kato Koufonisi is approached only by a kaiki (wooden boat) driven by Captain Prassinos who is a very authentic, pirate-like figure on the island. He makes the crossing with his boat several times per day. Kato Koufonisi remains uninhabited and apart from a very authentic taverna, called "Venetsanos" serving home-cooked lamp, fish soup and other greek recipes, nothing else exists there. It is a pole of attraction from visitors from Pano Koufonisi who want to discover its amazing and remote beaches.

The ferry ride from Piraeus to Koufonisia is a bit more than 7 hours. Alternatively, you can fly to Paros or Naxos and take the ferry from there.
Where to stay: Accommodation options here are slightly wider.
A villa that can accommodate from 8 to 12 people at Pori beach is ideal especially for a family with kids or a big group of friends. Only a few meters away from the villa you will also find "Kalofego" an all-day lounge bar and restaurant (probably one of the best in the Aegean) with the most amazing atmosphere!
The Blue Harpist is a modern group of villas and apartments with a very minimal and Cycladic design which is also ideal for bigger groups of co-travelers.
Teal blue is the perfect option for couples. Its amazing terraces overlooking those turquoise waters are simply eye-satisfying!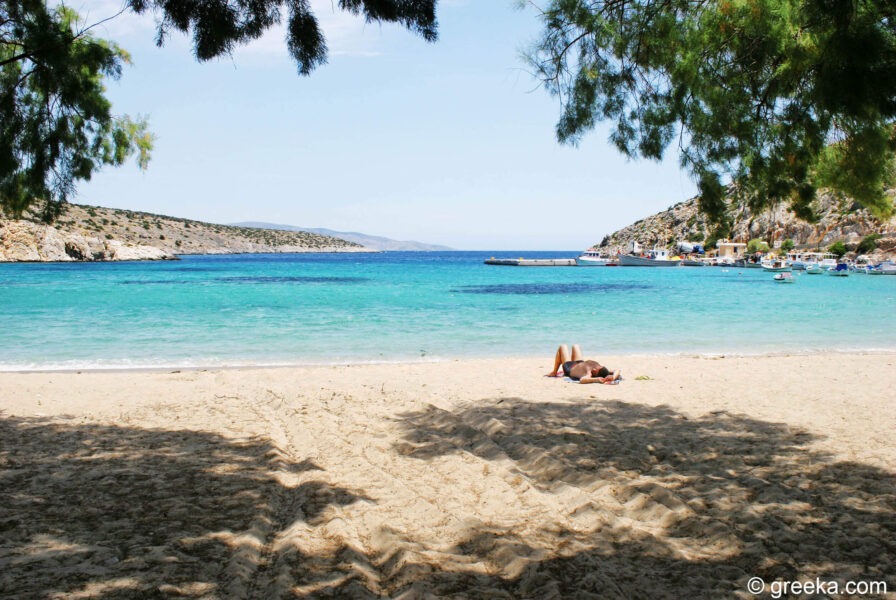 Iraklia is the last of these confetti-like islands scattered around Naxos and probably the least touristy one.
Exploring caves with stalagmites and stalactites, hiking to a secluded creek diving into sparkling waters where a WW2 plane wreck lies just 10m under sea level, reading a book on a hammock before your noon siesta and eating fresh fish at the picturesque harbor while gazing a lovely sunset is what you should expect from your days on this discreet beauty that remains totally unspoiled.
Where to stay: Kritamos suites in Livadi beach is the place to stay and relax offering you warm accommodation, while Pera Panta all-day cafe/restaurant is a chill out meeting hub for locals and visitors.
*Useful info:
For Ferry tickets: Check available ferry schedules and book your ferry tickets to the Small Cyclades online with Greeka.com 
The Small Cyclades are in close proximity and hopping from one island to another is very easy and recommended even for a day tour. The ferry ride lasts less than an hour and the tickets are cheap.
For more accommodation options, you can check: Schinoussa, Donoussa, Koufonissia and Iraklia
The post The discreet charm of the Small Cyclades islands appeared first on GREECE TRAVEL BLOG BY GREEKA.